OMLA 2006 Summer Foray
Vinton County, Ohio (July 15)
The OMLA organized a one-day summer foray for Zaleski State Forest, located in Vinton County, Ohio. The primary purpose was to add to the known list of mosses and liverworts, which have been undercollected in this county. A total of 11 participants traveled to 5 different sites, representing a wide variety of habitats within the State Forest, including acid mine drainage wetlands dominated by Sphagnum and Bald Cypress, sandstone outcrops, riparian forest, and an ephemeral stream community containing small waterfalls and a cove. A total of 61 mosses and 12 liverworts were collected. 32 of the mosses and all 12 of the liverworts were Vinton County records. One of the best finds was Orthotrichum sordidum, collected by Bob Klips, which was known from only one other Ohio County. Two other notable collections were made by Barb Andreas: Hookeria acutifolia and Fissidens raveneli, both of which were known from only 6 other counties.
Bryophytes recorded in Vinton County
(* signifies new county record)
Mosses
Amblystegium varium
Anomodon attenuatus*
A. rostratus
Atrichum crispum*
A. oerstedianum*
Aulacomnium palustre*
Brachythecium oxycladon*
Bryhnia novae-angliae*
Bryoandersonia illecebra
Bryum argenteum*
Callicladium haldanianum*
Campylium chrysophyllum
Ceratodon purpureus var. purpureus*
Climacium americanum
Dicranum fulvum
D. montanum
D. scoparium
Diphyscium foliosum*
Entodon seductrix
Eurhynchium hians*
Fissidens dubius*
F. osmundioides*
F. ravenelii*
Forsstroemia trichomitria
Grimmia laevigata
Haplocladium microphyllum*
Haplohymenium triste*
Hedwigia ciliata
Homalotheciella subcapillata*
Homomallium adnatum
Hookeria acutifolia*
Hypnum curvifolium*
H. imponens
H. lindbergii*
H. pallescens*
Leskea gracilescens*
Leucobryum glaucum
Mnium marginatum*
Orthotrichum ohioense
O. sordidum*
Plagiomnium cuspidatum
Plagiothecium cavifolium*
P. laetum*
Platygyrium repens*
Polytrichum commune
P. juniperinum
P. ohioense
Pseudotaxiphyllum elegans*
Pylaisiadelpha tenuirostris*
Rhizomnium punctatum*
Schistidium apocarpum*
Sematophyllum adnatum
Sphagnum fallax
S. palustre
S. recurvum
Steerecleus serrulatus
Taxiphyllum deplanatum
Tetraphis pellucida
Thuidium delicatulum
Tortella humilis
Liverworts
Cephaloziella rubella*
Conocephalum conicum
Diplophyllum apiculatum
Frullania eboracensis*
Jungermannia crenuliformis*
J. gracillima*
Lophocolea heterophylla*
Moerckia hibernica*
Nowellia curvifolia
Pallavicinia lyellii*
Pellia epiphylla
Porella platyphylla
Scapania nemorea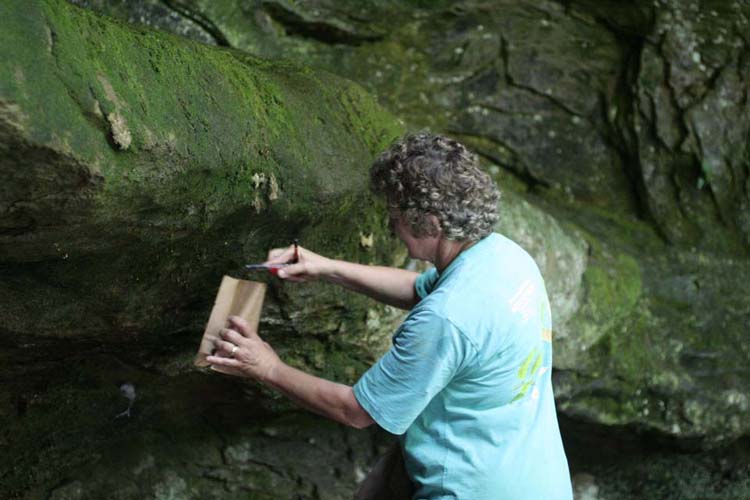 Barb makes a collection along a shaded sandstone outcrop in Zaleski State Forest.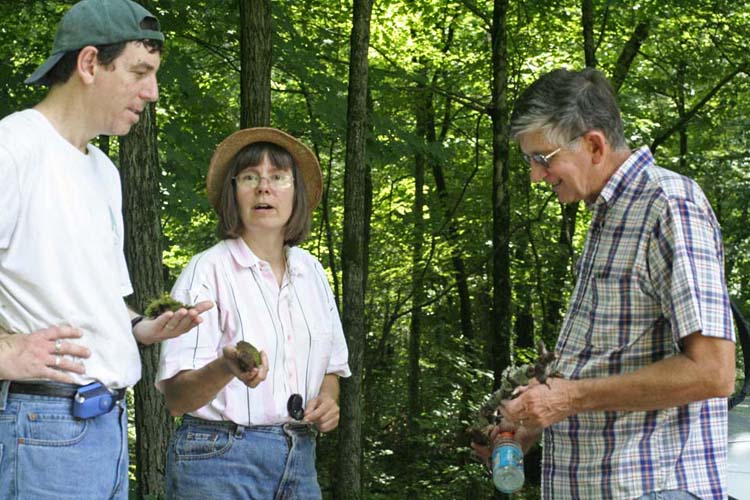 Brian's idea of marketing a "pet moss" is met with skepticism by Janet and Ray.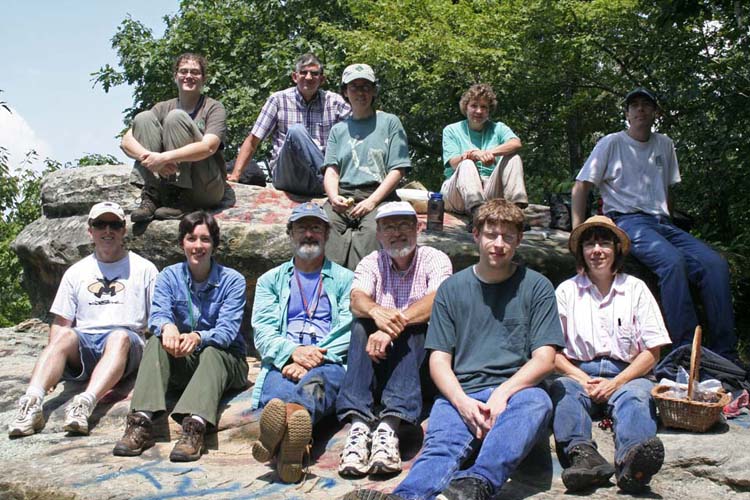 Participants of the 2006 Summer Foray on Lookout Rock (Zaleski State Forest) in Vinton County.