Welcome to the website of the
Ohio Moss and Lichen Association
The Ohio Moss and Lichen Association (OMLA) is an informal group of people interested in the study of "cryptogams."
For more information about our forays, visit the UPCOMING FORAYS page.
 OMLA is Participating in"Physcohunt,"
a Mossome Citizen Science Opportunity
Physcomitrium pyriforme is an annual or short-lived perennial moss of open bare ground that is widely distributed across most of the world.
Recently, OMLA was contacted by Rafael Medina, a researcher at Augustana College in Illinois, for assistance in a study of naturally occurring differences in ploidy level (variation in the numbers of sets of chromosomes) of this moss. He wrote:
Dear friends from the Ohio Moss and Lichen Association,

We would like you to consider sending us your upcoming collections of Physcomitrium to be part of a new research project, a collaboration among the University of Connecticut, Texas Tech University, and Augustana College. We are using this moss as a model system to study plant evolutionary mechanisms and we would appreciate samples from Ohio (or elsewhere in the Midwest). Since their purpose will be culturing, we need recent collections with viable spores (mature but still operculated capsules preferred). Physcomitrium mosses are typically spring ephemerals found in disturbed soils, croplands and lawns.

We are also looking for bryologists interested in becoming active participants in the project. We are open to collaboration and willing to share our data with colleagues who submit critical specimens or contribute in a continued way, and we will invite them to join authorship of selected papers resulting from this project. If you are interested in participating, please submit your name through this on-line form: https://funariaceae.uconn.edu/participating-in-project/

Since Physcomitrium colonies are easy to find, this might also be a good opportunity to engage naturalists still unexperienced with mosses: Anybody can easily collect and send samples that will be used to learn about moss evolution. We have prepared the citizen science campaign named "PhyscoHunt" for this purpose. A training document to get any interested person started can be found at https://funariaceae.uconn.edu/contribute-samples/. Please disseminate and share this resource among students, local botanical groups, etc. If you want to send your Physcomitrium samples for us to culture and include in the project, send them to
Bernard Goffinet, Ecology and Evolutionary Biology, University of Connecticut 75 North Eagleville Rd, Storrs, CT.

Thank you.

Rafael Medina

Project website: http://funariaceae.uconn.edu
Dr. Medina was the guest on a recent episode of the botany podcast "In Defense of Plants," during which he described the project. You can listen by clicking the thumbnail image below to visit the podcast episode site.
Dr. Medina and his colleagues have put together very clear instructions for locating and collecting the moss samples, shown below. Note that they are endeavoring to grow their study plants from spores, so timing is crucial to get ripe capsules.
PhyscoHuntTrainingv1 (1)

Let's keep an eye out for Physcomitrium patches in the weeks ahead and monitor the plants with the goal of collecting them at just the right time. Please contact me via the webmaster email link in the header above when you have located specimens or have questions about how to do so. Unless you prefer to send samples yourself, I'll be happy to collect them from you and send all the specimens together to the University of Connecticut lab.
Thanks, and happy moss hunting!
Bob Klips, OMLA webmaster
Lichen Guide Published by
Ohio Division of Wildlife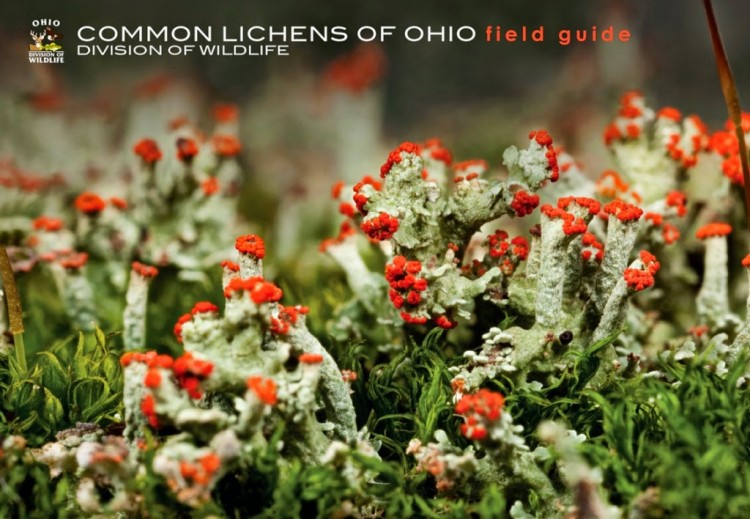 In mid-March, 2015, the Ohio Division of Wildlife published "Common Lichens of Ohio," an 80-page booklet authored by OMLA co-founder Ray Showman, who is also the co-author of The Macrolichens of Ohio (2004). This is the 15th in a series of ODW nature guides, and the first such guide to focus on non-animal wildlife. While the heart of the booklet is descriptions of 56 lichen species, accompanied by photos contributed by several different OMLA members, it also includes material on lichen structure and reproduction, along with numerous descriptions of lichen and animal interactions. There is a brief essay entitled "Lichens, Moths and Bats" by Dr. David Wagner, the author of "Caterpillars of North America."
The guide is free, and can be obtained (along with all the other ODW identification guides) at the ODW District 1 (Central Ohio) office at 1500 Dublin Road Columbus, Ohio 43215, or by calling 1-800-WILDLIFE. Additional  contact info for ODW including an e-mail address that will probably also work for requests, can be accessed HERE (link).
……………………………………………………
OMLA sponsors illustration in Flora of North America
The Flora of North America Editorial Committee offered bryologists the opportunity to help defray publication costs by sponsoring illustrations for volume 27 or volume 28 of FNA. These are the two moss volumes, of which 27 was completed in 2007, 28 will appeared about mid 2014. Individuals and organizations sponsored one or more drawings, at a modest financial cost. Sponsors have their names acknowledged in the introductory chapter of Volume 28. OMLA has chosen to sponsor Ohio haircap moss, Polytrichastrum ohioense, the only illustrated taxon with "Ohio" in its name. We're pleased to be able to help with such a worthy endeavor, and aqre enjoying seeing and using the new volume.
OMLA was born from an organizational meeting of a number of naturalists and professional educators held in June, 2004 at the Gorman Nature Center.
Founders meeting of OMLA at Gorman Nature Center in June, 2004.
Goals of the association include encouraging amateur and academic students in study of these organisms, expanding the knowledge of lichen and bryophyte distributions in Ohio, and gaining a better understanding of rare lichens and bryophytes in Ohio.
OMLA pursues these goals through workshops and field trips (forays). The first Fall Foray was a two-day field trip to the Edge of Appalachia preserve system in Adams County (October, 2004). This was such a success that one member asked "So what are we doing next weekend?" It was decided to have a two-day foray every fall. OMLA also does one-day forays.