Fall Foray to Noble County
October 3, 2020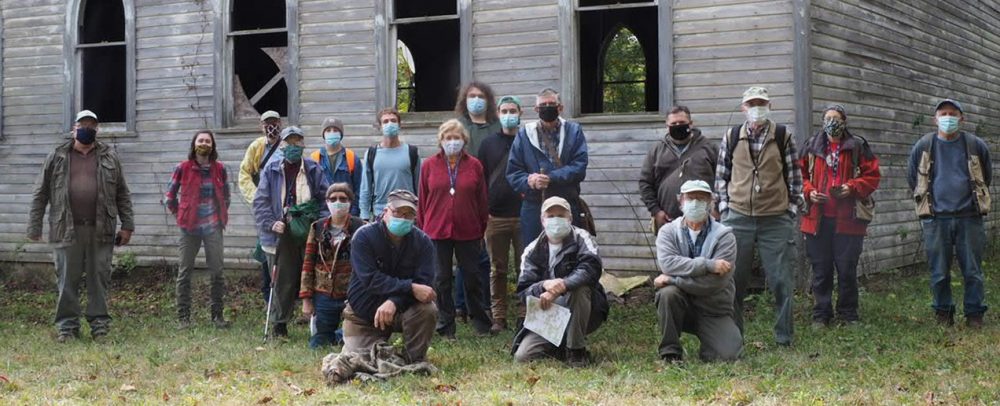 The 2020 Fall Foray was held on October 3 in Buffalo Township, Noble County, Ohio. Dennis LeMond and Ann Acheson opened their 800 plus acres of forest to 16 OMLA members. The areas visited included mixed oak and mixed mesophytic forests, young forests, sandstone ledges and boulders, and mowed access roads. OMLA member and Ohio's Chief Botanist Rick Gardner planned the foray.
Sixty mosses species were collected, 42 of which are county records. Four liverworts were collected, and all are county records.
Lichens were investigated on as many substrates and habitats as possible during the forayoray. A total of 77 species were either collected or identified in the field. Of these, 32 species were macrolichens and 37 were crustose. Eight of the macrolichens were new records for Noble County (indicated below). Since crustose records are unknown from Noble County, all of the crustose species reported here can be considered new county records.
Bryophytes of the 2020 Fall Foray in Noble County, Ohio
* = New county record
Mosses
Amblystegium serpens*
Anomodon attenuatus
A. tristis*
Arrhenopterum heterostichum*
Atrichum angustatum
A. altecristatum*
A. crispulum*
Bartramia pomiformis
Brachytheciastrum velutinum*
Brachythecium acuminatum*
B. falcatum*
B. laetum
Bryhnia gramincolor*
Bryoandersonia illecebra
Callicladium hadanianum*
Calliergonella curvifolia
C. lindbergii
Campyliadelphus chrysophyllus
Climacium americanum*
Cladopodium rostratum*
Ctenidium subrectifolium*
Dicranum scoparium
Entodon seductrix*
Eurhynchiastrum pulchellum
Fissidens bryoides*
F. bushii*
F. dubius*
F. subbasilaris*
F. taxifolius*
Funaria hygrometrica*
Grimmia pilifera*
Haplocladium macrophyllum*
Hedwigia ciliata*
Homomallium adnatum*
Hygroamblystegium varium
Leskea gracilescens
Leucobryum albidum*
Lewinskya sordida*
Orthodicranum montanum*
Orthotrichum pusillum*
Oxyrrhynchium hians
Physcomitrium serrulatum*
Plagiomnium ciliare*
P. cuspidatum*
P. ellipticum*
Platygyrium repens
Pleurozium schreberi
Polytrichum commune*
P. ohioense*
Pogonatum pensilvanicum*
Pylaisiadelpha tenuirostris*
Rhizomnium punctatum*
Rhodobryum ontariense*
Rhynchostegium serrulatum
Schistidium apocarpum*
Sciuro-hypnum plumosum*
Sematophyllum demissum*
Thuidium delicatulum
T. recognitum
Ulota crispula*
Liverworts
Cololejeunea biddlecomiae*
Fossombronia sp.
Frullania eboracensis*
Lophocolea heterophylla*
Nowellia curvifolia*
Lichens of the 2020 Fall Foray in Noble County, Ohio
* = New county record
Agonimia sp.
Amandinea polyspora
Anisomeridium distans
A. polypori
Arthonia apatetica
Aspicilia laevata
Biatora printzenii
Bryobilimbia ahlesii
Buellia erubescens
Caloplaca sideritis
Candelaria concolor
Candelariella efflorescens
Catillaria nigroclavata
Chrysothrix caesia
Cladonia coniocraea
C. furcata
C. ochrochlora*
C. peziziformis
C. pyxidata complex
C. rangiferina
Collema subflaccidum
Cryptodiscus pallidus
Dermatocarpon luridum*
Durella macrospora
Flavoparmelia baltimorensis
F. caperata
F. soredica
Graphis scripta
Gyalolechia flavovirescens
Heterodermia obscurata
H. speciosa
Hyperphyscia syncolla*
Hypotrachyna livida
H. minarum
Lecania croatica
Lecanora appalachensis
L. hybocarpa
L. layana
L. strobilina
Lecidea cyrtidia
L. varians
Leptogium cynescens
Lepraria caesiella
L. finkii
L. hodkinsoniana
Melanelixia subaurifera
Micarea prasina
Multiclavula mucida
Myelochroa aurulenta
M. galbina
Nectriopsis rubefaciens
Parmelia sulcata
Parmotrema hypotropum
P. reticulatum
Peltigera evansiana
P. praetextata
Pertusaria pustulata
Phaeophyscia adiastola*
P. cernohorskyi*
P. rubropulchra
Physcia americana
P. millegrana
P. pumilior*
P. stellaris
Punctelia caseana
P. rudecta
Pyxine sorediata
Rinodina papillata
Ropalospora viridis
Porpidia albocaerulescens
Rosellinia subiculata
Scoliciosporum pensylvanicum
Scytinium dactylinum*
Trapelia placodioides
Usnea mutabilis*
Viridothelium virens
Willeya diffractella