OMLA 2013 Spring Foray
Allen County, OH
June 15, 2013
We held our late-spring-almost-summer 2013 Foray at Kendrick Woods in Allen County on Saturday, June 15. This wonderful, 472-acre preserve is part of the Johnny Appleseed Metropolitan Park District and is also designated as a State Nature Preserve. We are very grateful to the Park District and Director Vince Sarno for giving us permission to collect here in search of new records for Allen County, which previously had only 24 different mosses and 9 kinds of lichens reported.
The weather was sunny and warm. Plenty of rain in the weeks before the foray made for lush vegetation and should have made for plenty of mosquitoes, but they weren't as abundant as you might expect in one of our northwest Ohio woods this time of year.
(All photos by Bob Klips)
 Diane, Robin and Jeff tallying some new county records.
Leskea gracilescens was very common on logs and trees.

The great thing about looking at lichens and mosses is that you won't get tired from running fast. Here were are, about 15 feet from our starting point after 20 minutes (OK, maybe it was 20 feet in 15 minutes), finding plenty to look at: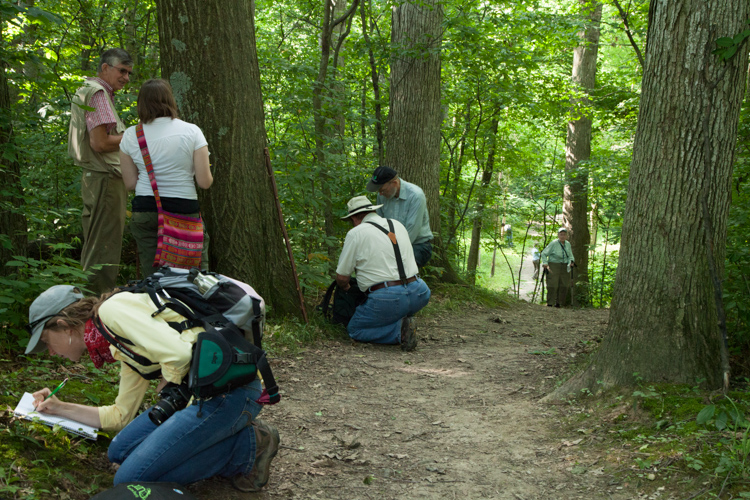 We happened upon a beautiful Scutellara ovata on our way to the next bryophyte hot spot: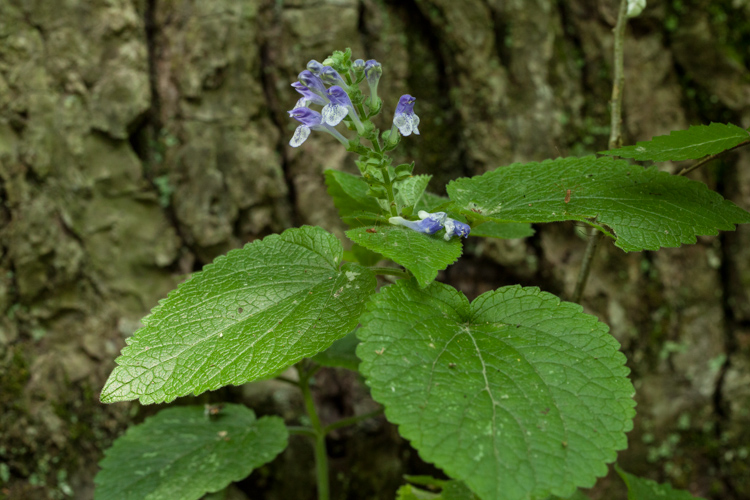 One of the fun things about being engrossed looking at bryophytes is to be startled when some huge creature suddenly appears, in this case a six-spotted tiger beetle:
Janet couldn't resist the opportunity to work with the excellent local clay in the floodplain. The work was placed in the shelter house sculpture gallery at the end of the day.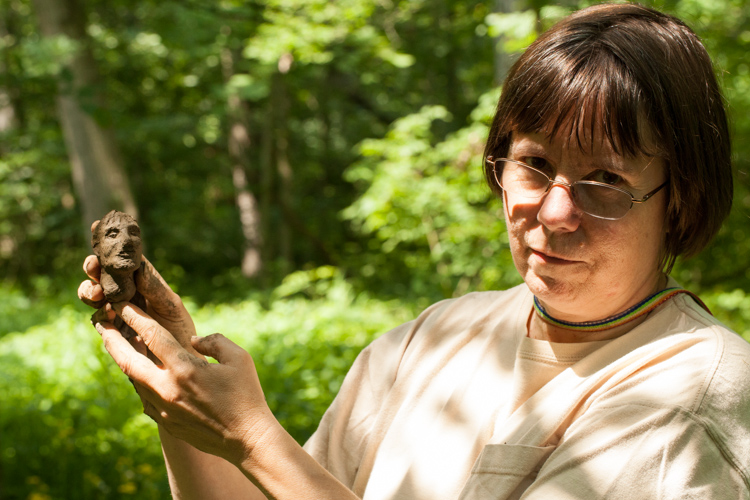 All who survived the morning met up at lunch time for our traditional line-up with beautiful Kendrick Woods in the background:
Physconia detersa as found and photographed by Bob:
Jeff and Clea check out a trove of Bryums on a shelter house chimney that was perfectly placed to catch rain water from the roof: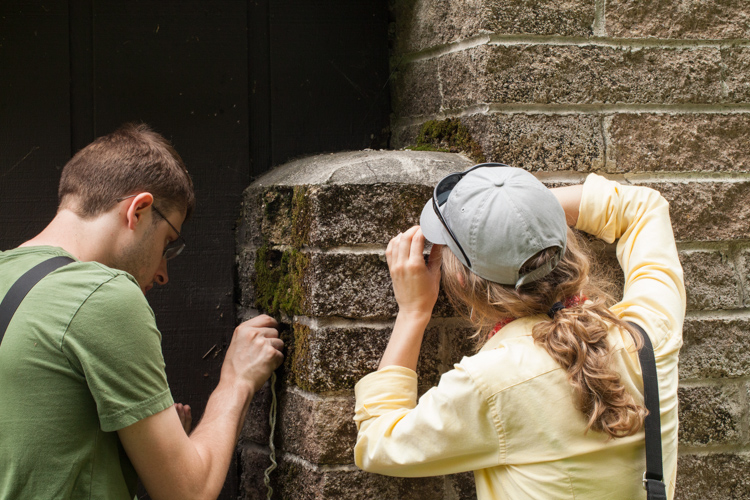 Smilax herbacea in full bloom:
Additional details about the OMLA 2013 Spring Foray are in Vol. 10 of OBELISK, our newsletter.
Bryophytes of the 2013 Spring Foray in Allen County
* = new county record
Mosses
Abietinella abietina*
Amblystegium varium*
Anomodon attenuatus
A. minor*
A. rostratus*
Atrichum altecristatum*
A. angustatum
A. tenellum*
Brachythecium laetum*
B. salebrosum*
Bryhnia novae-angliae*
Bryum argenteum*
B. caespiticium*
B. capillare*
B. flaccidum*
B. lisae var. cuspidatum*
Callicladium haldanianum
Calliergonella (Hypnum) lindbergii*
Campylium chrysophyllum*
Ceratodon purpureus
Dicranella heteromalla*
Ditrichum pusillum*
Entodon cladorrhizans*
E. seductrix
Eurhynchium hians
Fissidens taxifolius
Haplocladium microphyllum*
H. virginianum*
Leptodictyum riparium*
Leskea gracilescens
Lindbergia brachyptera*
Orthotrichum pumilum*
O. stellatum*
Plagiomnium ciliare*
P. cuspidatum
Platygyrium repens
Rhynchostegium serrulatum
Schistidium apocarpum*
Sematophyllum adnatum*
Syntrichia papillosa*
Taxiphyllum deplanatum*
Tortella humilis*
Liverworts
Frullania eboracensis
Lophocolea heterophylla
Porella platyphylla
Lichens of the 2013 Spring Foray in Allen County
* = new county record
Candelaria concolor
Cladonia cristatella*
C. macilenta*
Flavoparmelia caperata
Myelochroa aurulenta*
Parmelia sulcata*
Parmotrema hypotropum*
P. stuppeum*
Phaeophyscia adiastola*
P. cernohorskyi*
P. decolor*
P. pusilloides*
P. rubropulchra*
Physcia adscendens*
P. millegrana
P. stellaris
Physciella chloantha*
Physconia detersa*
Punctelia rudecta
Ramalina celastri*
Usnea strigosa*
Xanthomendoza fallax
X. ulophyllodes*
X. weberi*