Introduction to
Moss ID Links

ID1 (Intro to Plants)
ID2 (Bryophytes)
ID3 (Life Cycle)
ID4 (Divsions)
ID5 (Books & Gear)
ID6 (Leaves)
ID7 (Cells)
ID8 (Sporophytes)
ID9 (peculiar Sphagnum)
ID10 (peculiar Atrichum)
ID11 (peculiar Fissidens)
ID12. (Key Overview)
ID13 (Platygyrium start)
ID14 (Platygyrium finish)
ID15 (Funaria start)
ID16 (Funaria finish)
ID17 (Orthotrichum start)
ID18 (Orthotrichum finish)
ID19 (OH Atlas & FQAI)
ID20. (Plag. cusp.)
ID21 (Ambl. vari., Anom. Atte.)
ID22 (Plat. repe., Ento. sedu.)
ID23 (Cera. purp., Anom. rost.)
ID24 (Clim. amer., Thui. deli.)
ID25 (Atri angu.)
INTRODUCTION TO MOSS IDENTIFICATION
3. Moss Life Cycle
A moss SPORE germinates and develops first into a green mass of thin threads called the PROTONEMA. It resembles a filamentous green alga. For most mosses, the protonema is a short-lived transitional form that gives rise to the GAMETOPHYTES. A few mosses have a persistent protonema.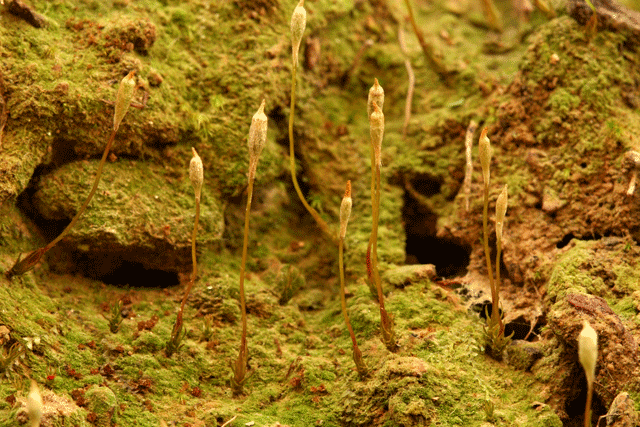 Pogonatum pensylvanicum (shown above), common during autumn on moist exposed banks, has a peristent protonema that can be seen as the greenish covering on the ground between the much reduced gametophytes with their attached sporophytes.

At the ends of some branches, clusters of tiny GAMETANGIA (gamete-producing structures) develop, overtopped by the surrounding leaves. The male (sperm-producing) gametangia are sac-like structures called ANTHERIDIA, each of which produces many SPERM. The female ARCHEGONIA are flask-shaped with an opening at the top for sperm to enter and a single EGG inside at the bottom.
These moss life cycle drawings are redrawn with slight modification from
A Laboratory Manual for Botany
by Margaret Balbach and Lawrence Bliss (2002).
Shown below, the moss Orthotrichum pusillum produces clusters of antheridia (left-hand photo) and archegonia (right-hand photo) at the ends of separate branches on the same plant (an arrangement called "autoecious"). These pictures were taken through a compound microscope at 100X during the 1st week of March.


With the help of a raindrop or simply by swimming through a film of water (some recent research indicates that tiny invertebrates sometimes help spread moss sperm), sperm find their way into an archegonium to fertilize the egg and begin the diploid sporophyte phase of the life cycle.
Some male moss plants such as Atrichum altecristatum (below) have whorls of leaves that act as splash cups to propel sperm when it rains.


The moss spropophte is a comparatively simple structure typically resembling a tiny golf club stuck onto the maternal gametophyte that produced it. It remains attached to "mom" for its whole life, deriving most of its nutrition from the maternal gametophyte.

The moss sporophyte consists of a SPORANGIUM (capsule) supported by a slender stalk, the SETA. When it is young, the sporophyte is protected by a hat-like covering, the CALYPTRA. The calyptra is actually maternal gametophyte tissue, a remnant of the archegonium. Until the spores are mature, the mouth of the capsule is covered by a cap-like lid, the OPERCULUM, which eventually falls off to allow spore release. Spore release is typically regulated by one or two rings of teeth arond the mouth of the capsule, the PERISTOME.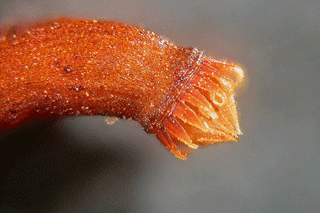 The photos above show, on the left side, Entodon seductrix capsules at various stages of development. On the right is a portion of the capsule of Callicladium haldanianum (or possibly Brachythecium oxycladon) showing a well-developed peristome with two rings of teeth: the outer exostome and the inner endostome. Although they are non-living remnants of cell walls, peristome teeth nonetheless move in response to changes in atmospheric humidity, serving to ensure spore release only during favorableconditions (dry for some species; moist for others).
Next: Three Bryophyte Divisions